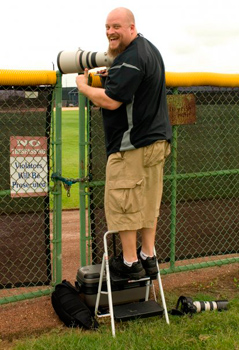 Mike Carlson is a Tampa, Florida area photographer offering a wide range of services to individuals and national organizations. Focusing primarily on sports, he covers events for clients such as the Associated Press, Reuters, St. Leo University, the St. Petersburg Times and the Tampa Bay Buccaneers and Lightning. Along with news/feature coverage he also offers services for journalistic wedding coverage and portraiture, and when he finds time relaxes with travel/wildlife photography.
Residing in the Tampa area but willing to travel for coverage, he brings an international perspective. Originally from Canada he has lived and worked overseas for seven years in Turkey, Egypt and Tanzania and traveled throughout Africa, Europe and Asia. Along with his photographic pursuits he is also a high school educator, teaching Journalism and English.
While his images have been found on the pages of publications such as Sports Illustrated, ESPN The Magazine and USA Today, he's equally satisfied if a captured memory is preserved in a high school yearbook or on a proud parent's wall.
Please use the contact information below to see how Mike's services can help capture your moment.